The Cold Case Handbook
by: Joseph L. Giacalone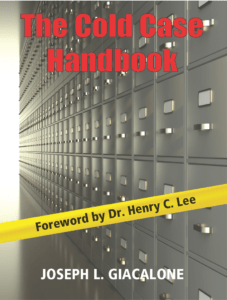 The Cold Case Handbook is an insider's look into what goes into a cold case investigation. As the former Commanding Officer of the NYPD's Bronx Cold Case, retired Sergeant SDS, Joseph Giacalone takes the reader into the realm of cold case investigation. The book is not only written for law enforcement, but also for the victim's families and the true crime community.
World renowned forensic scientist Dr. Henry C. Lee of the Henry Lee Institute, New Haven, Connecticut wrote the foreward for the new book. The book is published by Blue 360 Media.

The Cold Case Handbook is packed with great ideas and suggestions to help law enforcement to tackle America's most difficult cases. It maybe possible With the help of the victim's families, the true crime community, and two new federal laws. The two new laws are Homicide Victims' Families' Rights Act and the Help Find the Missing Act. Both laws were signed in 2022 and a breakdown of the most important parts are included in the text.
The book is available on Blue 360 Media and Amazon.
Chapter List:
Chapter 1: The Homicide Victims' Rights Act
Chapter 2: Starting a Cold Case Squad
Chapter 3: Choosing the Right Personnel for the Cold Case Squad
Chapter 4: Why Do Cases Go Cold?
Chapter 5: Choosing a Cold Case to Investigate
Chapter 6: Organizing and Reviewing the Cold Case File
Chapter 7: Researching a Cold Case
Chapter 8: The Photographic Crime Scene Walkthrough
Chapter 9: The Reinvestigation of the Case – Reading the Reports
Chapter 10: The Reinvestigation of the Case – Reinterviews
Chapter 11: Social Media for Cold Cases
Chapter 12: Report Writing
Chapter 13: Cold Case Missing Persons
Chapter 14: The Search for a Known Suspect
Chapter 15: Interrogation
Chapter 16: Cold Case Sexual Assaults
Chapter 17: Victims' Family Resources
Chapter 18: Cold Case Prosection